Access Control Systems at JAMS Security LLC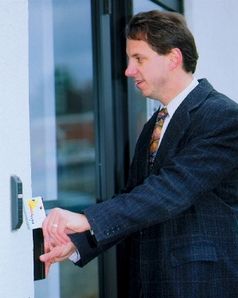 Another way to have security is to install the access control systems. This capability allows you to have a personal access with your own card or key. Specific doors are locked unless you have the access card to enter.

Your most personal spaces will be protected by the access control systems. You can create different security levels. This also gives you the ability to select certain people to have entry privileges. Many business people may already have that special card access for their parking structure.

You can have each use of the access card is logged into a report so it is at your disposal. You can review who is coming and going. For businesses, this can be handy for investigations when theft has occurred. Access control systems can also clock in their employees for their work hours and lunch breaks.

JAMS Security has fixed re-key problems, safe repair and other security issues. We want you to feel safe at all times.